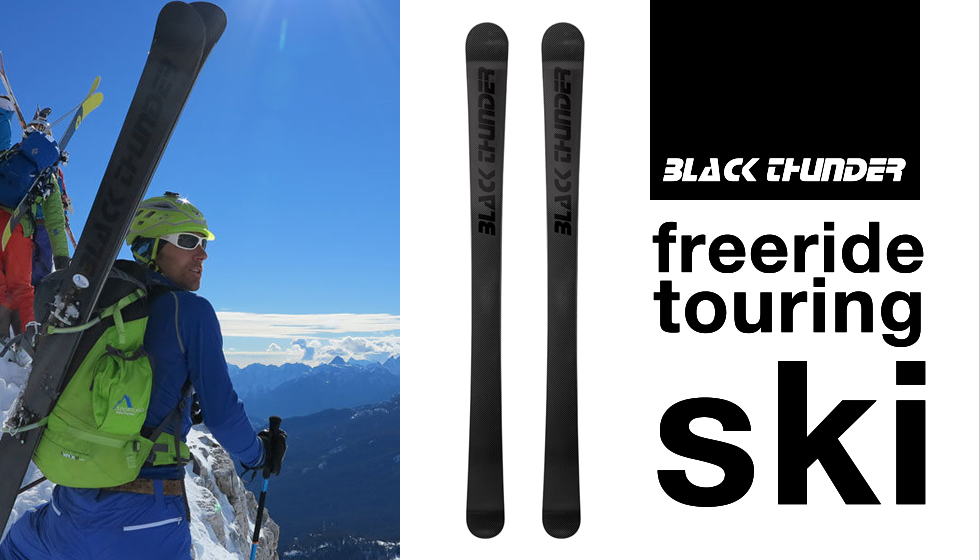 Black Thunder Ski
Experience: High-end all-round ski. Simply perfect skiing. Ski set: Ski, ski boots, ski poles
read more >>

Brother Elias Freeride Ski
Brother Elias: The lightest freeride ski in the world!
read more >>
Black Thunder Boat
Black Thunder NEW products! Enjoy the new experience. We will present you a small range of individual boats and yachts in the future.
read more >>
About us
Black Thunder stands for quality and individuality. Skis Black Thunder are a product with high technological content, produced in a limited series based on intensive research and development. The best materials in combination with patented solutions that guarantees unique quality product.

We are a small company based in South Tyrol with 25 years of experience in the ski sector. We are committed to give the true value. Not fast trends but evolution of ski. We have acquired the know-how over many years of ski racing service at high level competitions and we invented and patented products such as binding plates V-TECH (Vist plates) which have revolutionized and dominated for nearly 10 years the World Cup skiing.
In the last years Black Thunder has already achieved wins and podium places with many athletes in international FIS races and European Cup. This technology is in every Black Thunder ski. We do not make compromises. We are simply building the best skis and the most exclusive in the world, just for you. The limited edition of only 200 pairs per year.